The coastal area of Delaware (and any coastal area, for that matter) is ever changing. The Indian river inlet in Sussex County has had a few different bridges over the last several decades. The newest, the Charles W. Cullen Bridge cost millions of dollars more than it should have because the "old – new bridge under construction" was a halted project and was then torn down – to begin anew.
But what's done is done and the new bridge is certainly beautiful. According to the Delaware Department of Transportation news release of the dedication it, "will usher in a new era in multi-modal transportation along the Delaware coast and eastern Sussex County." This, of course, will aid in the development of the area and encourage and increase in tourism.
The bridge is gorgeous at night but few people will ever realize just how gorgeous. One must get off the highway to see the bridge from the side to see the beautiful – and expensive – lighting. When I first saw it I know I had to get a good photo before the taxpayers find out how much it costs to "keep the lights on." So, here it is.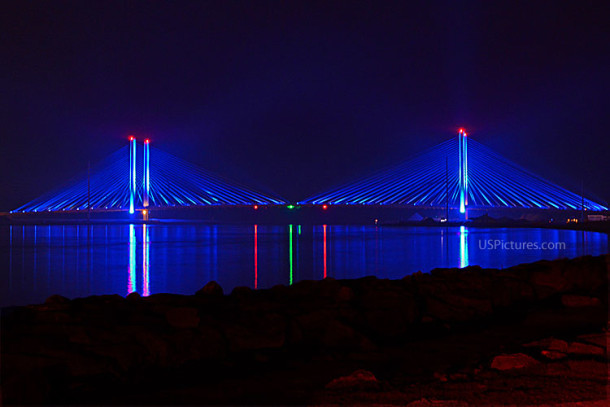 Wall art prints of this photograph (without the watermark) are available unframed, framed, or printed on canvas at USPictures.com in the Delmarva "Gallery."
The culmination of this Bridge Project also marks the beginning of efforts to rejuvenate the area around the Indian River Inlet. The DelDOT website remarks that, "improvements to restore and enhance various State Park and campground amenities, will be moving forward in the near future. Over the next few years, the Indian River Inlet area will be reborn into a new treasure of the Delaware coast."
Note, please, that I am beginning to develop a website featuring a night photograph on canvas of the lighted Indian River Inlet Bridge.