This afternoon I hit a milestone, of sorts, by uploading the 100th fine art photograph to my online gallery at US Pictures. The subject matter may even be appropriate for hitting this "Century Milestone." I chose an image I shot last Winter of the Old Otterbein United Methodist Church in Downtown Baltimore, next to the Inner Harbor. Why appropriate? There are a few "centuries" involved in this choice.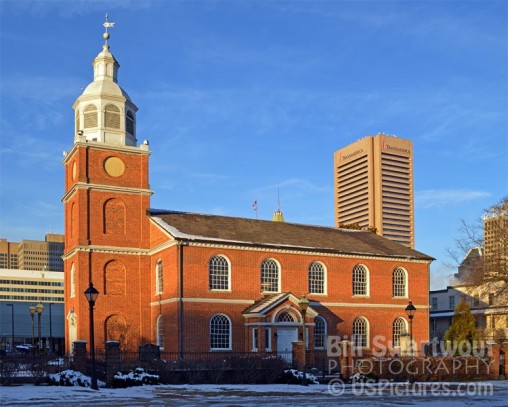 This church is historic in the fact that it is the oldest continuously operating sanctuary in the city of Baltimore and has been around for more than two centuries. The church was built in 1785. My wife and I have been members here for about a quarter century.
In addition, at the time of this post, Old Otterbein UMC is involved in helping the City to celebrate the Maryland Bi-Centennial Celebration of the War of 1812. During the celebration we will be recognizing the 200th Birthday (two centuries) of our National Anthem, The Star Spangled Banner, which was written by Francis Scott Key during the bombardment of Fort McHenry. Among numerous activities, the two-year recognition of the War of 1812 will be culminated with a modern bombardment of the Fort – with a massive fireworks display designed specifically for the event.