Near our home in West Fenwick there is a large beach community, "Live Bayside," with bay access called The Point, and a nature trail through a marsh at water's edge. It is a great place to go for a walk, expecially if one remembers to take a camera. 🙂
At the entrance to the nature trail is a flowering bush – in full bloom- that had attracted some colorful winged critters, including a couple of these butterflies.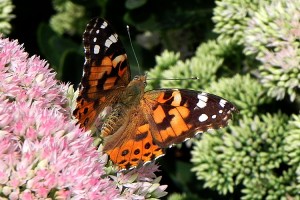 Interested in gathering nectar, or whatever cocktail they sip from the blossoms, this li'l guy* seemed oblivious to the camera. So I snapped a couple dozen shots as he* moved from one perch to another. A couple of the photos turned out better than I had hoped and they aroused my curiosity – as to just what kind of butterfly I saw – because they seem prevalent in our neck of the woods.
A search on Bing for butterfly images revealed far to many (27+ million) to try a visual match. While I could have looked for an identification rubric I thought I would first turn to that "all knowing" Internet source – known as Facebook. I do have a couple of friends, a few of whom (I know) have knowledge of butterflies. Sure enough – one post, with a picture, yielded responses from four people who narrowed it down to a Painted Lady. A Bing search for Painted lady Butterfly images yielded perfect matches for the above image.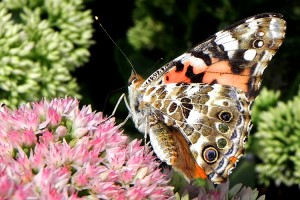 While Facebook may have been the tool I used to find an answer, please keep in mind that the answer itself was provided by real people. In this case they are people that I not only "friend" on facebook but actually know and with whom I have been friends (in real life) for many years. Many thanks to Debbie, Lisa, Shannon and Sue for helping me out.
* Guy? He? OK, so I was interested in determining the gender of this particular butterfly – and found all sorts of "guides" online. I determined, however, that it was a "he" – a "guy" butterfly – by simple observation. Huh? Yeah – he did NOT stop to primp before having his picture taken. Plain and simple – not a female. 🙂 🙂