I managed to catch a couple of interesting American Flag images of the "Storm Flag" flying over Fort McHenry in Baltimore, MD. The storm flag is the second largest flag used at the fort. It measures 17′ x 25′ and is a replica of the flag flown in 1014 during the British bombardment at the end of the War of 1812. Note that it also has the "original" 15 stars and 15 stripes because there were 15 states during that period of American History. On the day I captured this particular photograph, the "spanking breeze" was a bit too much for the largest flag, the Garrison Flag, which is 30′ x 40′ in size and is reserved for those "perfect" days with a gentle breeze.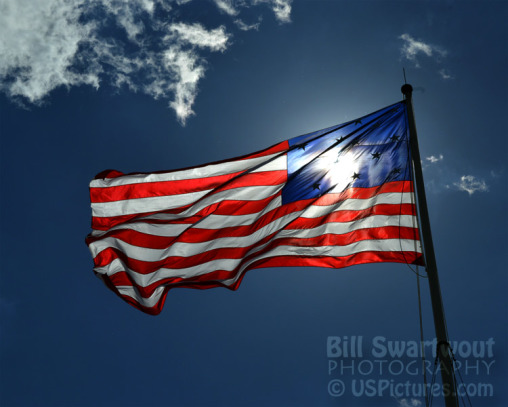 I wondered what it would be like to stand in the shadow of this large flag. I found the shadow on the grounds of the Fort, stood in it and looked up. WoW! The sun was blazing through the blue field making the stars translucent and the stripes appeared to be "painted" on the sky in the freshening wind. This image is available in my online art gallery at USPictures.com (in the Fort McHenry Gallery).
Do you know why red stripes, and not white stripes, are always at the top and bottom edges of our American Flag?