Baltimore's Fort McHenry is historic, easily accessible to one of our homes and is very popular. Plus, in a former life I was a social studies teacher – hence my interest in photographing the Star Fort and in sharing those images with others.
I am working on some large size prints (y'know 30 inches x 40 inches or so) of Fort McHenry and various features of the fort. These will be offered for sale in a Fort McHenry gallery in my main online Photography Gallery at http://USPictures.com. The first photo is of the main gate at the entrance to the "Star" portion of the Fort – and shows off the new ($30,000) flag pole. The flag flying in this photo is 17′ x 25′ and is known as the Storm Flag.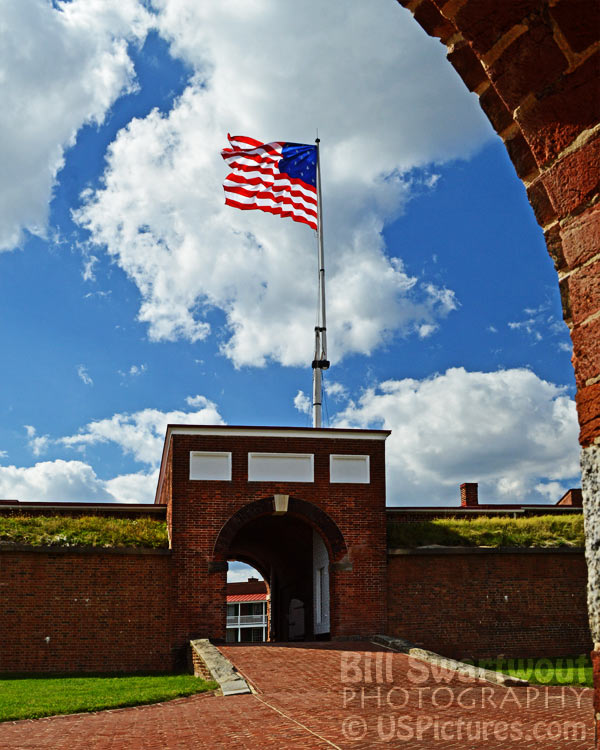 Many of my photos of the fort include the United States Flag. After all, it was the flag flying over Fort McHenry, during the Battle of Baltimore in 1814, that gave inspiration to Francis Scott Key when he wrote the poem, The Star Spangled Banner, that later became our country's National Anthem.
Below is the Ravelin Magazine. The above picture was taken from a position withing the right-hand arched doorway.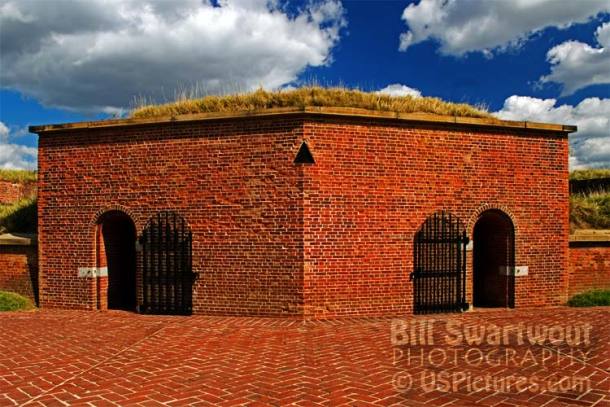 Near the end of the Civil War, several lage cannon were mounted on the ravelin (triangular fortifications outside of the main fort) and in the adjacent water battery (line of cannons even furthere out). The commanding officer ordered that 1,000 rounds of ammunition be kept nearby for each gun. In 1866, this magazine and two others were built to safely store the needed gunpowder.
The covered entrance with its angled stairway was designed to prevent enemy projectiles from reaching the explosives. Three feet (1m) of concrete and up to 16 feet (5m) of earth were laid over the afched brick vault.
In addition to the undergraound magazines, there are two above-ground brick magazines at Fort McHenry – on inside the star fort and one 250 yards to the west.
These two photographs are available, along with many others, from my online gallery at US Pictures .com.