There is no better place to shoot flags (as in "with a camera") than at the birthplace of the Star Spangled Banner, Fort McHenry, in Baltimore, Maryland. Remember that just a little more than 200 years ago the British were actually shooting at our flag – with big guns (cannons).
When I visit in Baltimore I often go for a walk at Fort McHenry. This particular day had one of those "postcard" skies, with fair-weather cumulus clouds against a bright blue background; so I went to Fort McHenry for a couple hours…with my camera bag, of course. Today I actually got to photograph two American Flags flying over the Fort at the same time and on the same flagpole. Read why below the photograph…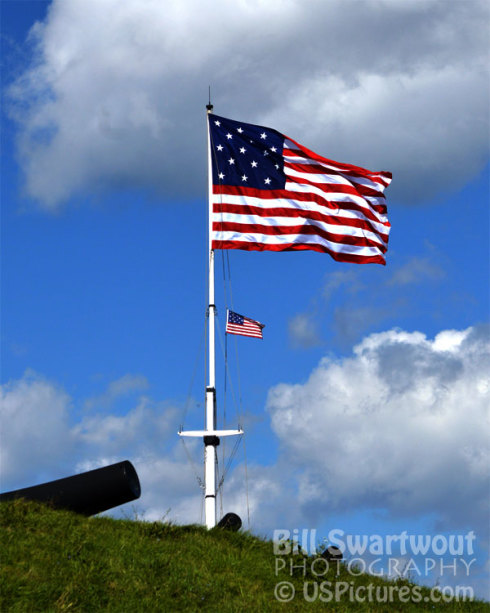 If you bring an American flag or buy a flag in the Ft. McHenry Gift Shop – a ranger will "run it up" the flagpole, let it fly in the breeze for a short while and then bring it down. You will then be a proud and patriotic owner because you have a flag that actually flew over Fort McHenry. They will even provide a certificate of authenticity for your flag stating that it flew over Fort McHenry. How cool is that?
This image is available, along with more of my photographs, in my online gallery at US Pictures, Bill Swartwout Photography.